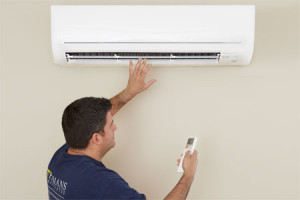 Window air conditioning units operate in a pretty simple and straightforward way. They have a big fan that blows air over a set of cooled and heated coils in order to produce a cold air fan. Though they serve to cool your home, window air conditioners are the least effective types of AC systems in the market. This is why if you have window AC units in your Deerfield Beach home, you should consider replacing with a mini-split air conditioner.
Why Window AC Systems Suck
AC systems account for a huge chunk of energy consumption in your home. You therefore need an air conditioner that's running efficiently to save you on unnecessary energy usage without compromising the comfort of your home. Apart from being inefficient, window air conditioners don't cool your home uniformly; some areas will be cool while others will be relatively warm. If you want to enjoy great comfort in your home then you should invest in an air conditioning unit that is effective and efficient.
Why Mini-Split Air Conditioners?
If you are a homeowner in Deerfield Beach and the surrounding areas and would like to increase energy efficiency in cooling your home; a ductless mini-split AC system is your best bet. Ductless air conditioners are loaded with numerous benefits amongst them:
Easy to Install – Ductless air conditioning units are pretty easy to install and can be installed within a day. It's important to engage the services of highly skilled and competent HVAC contractor to ensure your system is installed properly. Remember, if your AC unit is not installed properly, there will be inefficiencies and you won't be able to enjoy the full benefits that come with this type of a cooling system.
Easy to Operate – Ductless AC units come with a remote control that allows you to easily lower or increase the temperature of air from your system. You can also be able to zone cooling of individual rooms. What this means is that you can be able to set different temperatures for different rooms depending on your specific needs. For instance, you can lower the cooling of the visitor's room when not occupied without affecting the comfort of the rest of the house. In addition, you can adjust the settings when you are away from home. This saves you both energy and money.
Quiet Operations – Window air conditioners make noise while running, but ductless AC units are quiet. This allows you and your family to enjoy the ambiance and the tranquility of your home without any disturbance.
Improved IAQ – Mini-split air conditioning units have special features such as a multi-stage filtration that reduces allergens, pollen, bacteria and other contaminants from your indoor space. This significantly improves the quality of air you breathe and saves you from allergies and respiratory problems caused by dust and microbes in your indoor environment.
Ductless split systems though costlier than window air conditioners; they are energy-efficient and environmentally-friendly. They enable you to cool specific areas of your home to your desired temperature. This means you will enjoy exceptional comfort with your family throughout the year without incurring huge energy costs!
Contact us at Air Conditioning Deerfield Beach for a mini-split air conditioner installation in your home, and avoid window AC systems headaches!