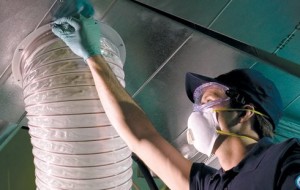 Most homeowners tend to wonder whether it is really important to have their air ducts cleaned. There are numerous benefits that come with clean air ducts including boosting the efficiency of your HVAC system and allergen-free environment. Ductwork usually accumulates debris and dust and if this is not cleaned, it can cause asthma, allergic reactions and frequent illnesses which are detrimental to you and your family health as well as productivity. In addition, when the furnace filters are full of debris and dirt, they lead to buildup of gunk in your ductwork and this poses a threat to the efficiency of your HVAC system. This is why Air Duct Deerfield Beach is here to offer you professional air duct cleaning services.
Signs that Your Ductwork Needs Cleaning
Here are some of the signs to look for to assess when your ductwork is due for cleaning.
Clogs of debris, cobwebs and dust or visible particles blowing out of the supply registers
Noticeable mold on the inner parts of the ducts
Dead insects and rodent droppings inside ducts
In addition, if there has been recent construction in your neighborhood or remodeling of your home, it is important that your air ducts are cleaned to prevent that dust from circulating in your indoor air.
Our Duct Cleaning Services
At Air Conditioning Deerfield Beach, we have a specially constituted duct cleaning department that addresses all your air quality problems comprehensively. Our technicians are highly trained and experienced in all ductwork matters.
We undertake air duct cleaning work using state-of-the-art equipment such as video inspection units which help to scan through your ductwork to locate debris and dirt even in the hidden corners. We highly advocate that you have your air ducts cleaned regularly to lower the chances of bacteria, mold and other microbes from accumulating within your ductwork.
The cleaning detergents we use are biodegradable as well as contain low to zero levels of volatile organic compounds. What this means is that you can occupy your home the moment we are done because there is no possibility of chemical irritants that can affect you and your family. After the cleaning task, our professionals thoroughly vacuum the surfaces within your house to make sure that dislodged dirt is sucked up and does not re-circulate within your home.
NADCA Air Duct Cleaning Recommendations
According to the National Air Duct Cleaners Association (NADCA), ductwork cleaning should be incorporated in the HVAC cleaning and maintenance exercise. It should entail cleaning or replacement of air filters, cleaning grilles, diffusers, and inspection of drain lines and drain pans. Our duct cleaning work entails:
Cleaning of the main supply duct, return air ducts and branch distribution ducts
Sealing of installation access panels in ducts
Removing and cleaning return air grilles and supply registers
Our certified and fully licensed technicians never disappoint because at Air Conditioning Deerfield Beach we deliver exceptional and quality services the first time. We get to your home at agreed time and ensure the duct cleaning process is professionally done within the stipulated time frame. This ensures you continue with your normal schedule without disruption. We guarantee you 100% satisfaction and we can't rest until you are fully satisfied with the work we have delivered.
Get in touch with us today and our ductwork cleaning professionals will be dispatched to inspect your home and give you a free estimate.